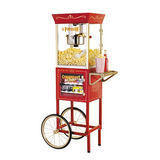 4oz Pop Corn Machine on Carnival Cart
6oz Kettle Pop Corn Machine on a Carnival Cart


Add Fun and Flare, best for parties with a theme.
Mid Size kettle makes yummy popcorn and sits on an
nostelgic carnival cart with a box compartment to hold your popcorn supplies.
Order Additional popping corn supplies under Consession Supply catagory.